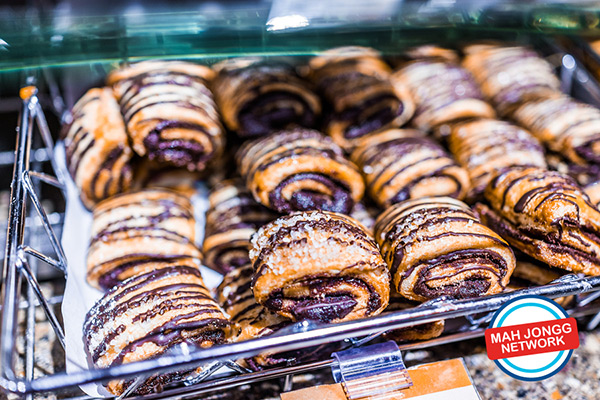 This rugelach has a tender, flaky, buttery dough and a rich chocolate filling.
Ingredients:
For the Dough:
8 ounces (2 sticks) unsalted butter, softened
8 ounces cream cheese, softened
3 tablespoons granulated sugar
1 tablespoon light brown sugar
1/4 teaspoon table salt
1 1/2 teaspoons pure vanilla extract
2 cups (about 10 ounces)all-purpose flour
For the Filling:
6 ounces bittersweet chocolate, finely chopped
1 tablespoon granulated sugar
1 tablespoon light brown sugar
2 tablespoons cocoa powder
For the Topping:
2 tablespoons granulated sugar
1/4 teaspoon ground cinnamon
Directions:
1. In bowl of a stand mixer fitted with a paddle attachment, mix butter, cream cheese, granulated sugar, brown sugar, and salt on medium speed until completely combined, about 1 minute. Mix in vanilla until combined. Mix in flour until combined.
2. Pat dough into an 8-inch square, wrap dough in plastic wrap, and chill until fairly firm, about 1 hour. In the meantime, mix together ingredients for filling in medium bowl.
3. Adjust oven rack to upper-middle and lower-middle positions. Preheat oven to 350°F. Line 2 rimmed baking sheets with parchment paper.
4. Cut dough into 4 equal pieces. On a floured surface, and working one piece of dough at a time, roll out into a 12-inch by 4-inch strip. Sprinkle 1/4 of the chocolate mixture onto dough and gently press into dough to adhere.
5. Working from the long end, gently roll dough strip into a 12-inch long log, making sure seam is at the bottom. Cut log into 1-inch pieces and place on one half of the baking sheet, evenly spacing apart. Repeat with second piece of dough to fill the first pan. Repeat with remaining pieces of dough to fill second pan. (You should have 24 rugelach per pan).
6. In small bowl, stir together sugar and cinnamon, and sprinkle on rugelach. Bake until rugelach is light golden brown, 20 to 25 minutes, rotating pans from top to bottom and front to back halfway through baking. Cool for 5 minutes on pan, then transfer rugelach to wire rack to cool completely.